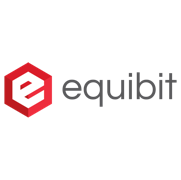 Deal Terms
Deal Type:
Token Presale
Bonus/Discount:
$250k = 10% / $1M = 20% Bonus
Collection Currency:
btc
Price:
10 usd
1 usd = 0.10 eqb
Blacklisted Countries: info
Estimated Dist. Date:
Q3 2019
Min Financing Amount:
$250,000
Max Financing Amount:
$4,000,000
Investor Accredited Required Countries: info
Executive Summary
Token Ticker:
EQB
Equibit is a dedicated blockchain protocol for security tokens. In 2017/2018 the world was captivated by the multi-billion-dollar ICO phenomenon - the next phase will be security tokens. Hundreds of trillions of dollars of assets are ready to go digital and peer-to-peer - but on what system? Introducing Equibit - the security token network.

With Equibit issuers and investors conduct business directly over a decentralized network, powered by the cryptocurrency EQB. Miners keep the whole experience secure, earning EQB from block rewards and transaction fees.

All you need to raise capital or invest is a compatible wallet! Equibit makes it easy for buyers and sellers to find each other and conduct atomic swaps - a secure peer-to-peer exchange of digital assets.

Issuers stake EQB to create securities and get communications and compliance tools so they can ensure they adhere to their regional securities laws or other requirements. This prevents their securities from ever being owned by an unqualified person.

With Equibit, the world of raising capital and investing is now more transparent and affordable than ever!

MILESTONES

May 2015
Equibit whitepaper released.

Sept 2015
Equibit Group Ltd. Founded

Jan 2016
Angel investment received.

Nov 2016
Equibit POC

Feb 2017
EQB sale round 1. Raised $130k / 398 BTC.

Oct 2017
EQB Sale Round 2. Raises 248 BTC.

Feb 2018
Toronto office.

July 2018
Equibit alpha Testnet launched.

Oct 2018
Swiss move complete. EQB Sale Final Round.

Dec 2018
Equibit beta Testnet planned.

Mar 2019
Coin Mainnet.

Q2 2019
Comm system Mainnet.

Q3 2019
Asset & Trading Passport registration Mainnet.
Token Standard:
Native Blockchain
Token Protocol:
SHA3
Token Type:
Utility
Country of Operation:
Switzerland
Website:
Link to White Paper:
Link to Slide Deck:
Telegram URL:
# of Telegram Members:
577
Twitter Url:
# of Twitter Followers:
3300
Compliance Statement: Equibit is offering the EQB utility token under the laws of Switzerland. The offering is not available to US investors who do not satisfy the requirements laid out by US law to be an accredited investor. Paperstreet will not receive compensation in the form of a performance fee or commission on the amount of capital raised in the offering.

Investments in cryptocurrencies and utility tokens involve a high degree of risk and those investors who cannot afford to lose their entire investment should not invest. This profile contains offering materials prepared solely by Equibit without the assistance of Paperstreet. Investors should review the risks and disclosures in the offering's investment documentation. Before making an investment decision, investors should review the company's Whitepaper and Slide Deck for a complete description of its business and offering information, a copy of which may be found below.

The material contained in this profile is not to be regarded as an recommendation to buy or sell or the solicitation of any offer to buy or sell securities in any jurisdiction where such an offer or solicitation is against the law, or to anyone to whom it is unlawful to make such an offer or solicitation, or if the person making the offer or solicitation is not qualified to do so. The information on this profile does not constitute legal, tax, or investment advice. You must not, therefore, rely on the content of this profile when making any investment decisions.